Workshops - Kumihimo
Learn the basics of this ancient Japanese braiding technique. Students will use a kumihimo disc (a modern foam version of the traditional marudai) to create eight-strand cords in a variety of patterns. This fast and fun technique is a sure winner. There are several variants on the workshop organized from basic to more advanced - but have no fear, no prior experience is required for any of these! I have taught these classes for several years to all skill levels, and everyone leaves with a beautiful finished piece. You will be amazed at what you can do!
All workshops include supplies needed to create the project, including a foam kumihimo disk that is yours to keep. Additional materials for future projects may be purchased separately if you want to keep going!
Class Size: 5-12 students
Ages: 12+
Learn the basic kumihimo technique by creating a small cord bracelet. Participants will weave together a eight strands of satin rat-tail on a kumihimo disc weave a simple cord bracelet. This is a great starter project for those wanting to learn more about kumihimo.
Experience Required: None
Class Duration: 2 hours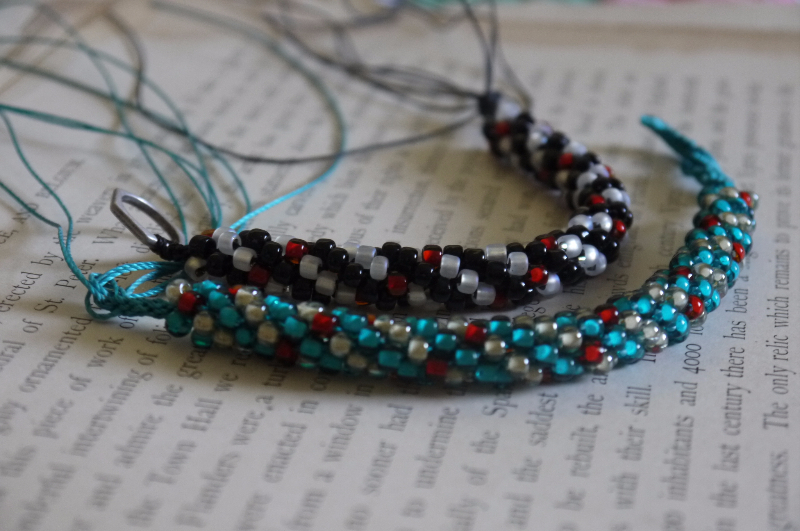 Take your technique to the next level! This project builds on the basic bracelet, adding 6mm Czech glass beads for amazing results. The finished piece can then be closed for a bracelet, or chain can be added to make a necklace. This project is still quite doable for the beginner.
Experience Required: None
Minimum Class Duration: 2 hours
The dragon scale project builds on the Kumihimo Beaded Bracelet techniques, this time using overlapping Magatama style beads to create an amazing scale effect. Students will learn the basics of kumihimo braiding, and use these skills to create a striking and supple piece that will draw plenty of attention.
Experience Required: None
Class Duration: 3-4 hours
Contact us if you are interested in arranging workshops